Master Tow (Tow Dollies)
Exclusive plants, unique by their sizes and forms!
Master Tow manufactures two Tow Dolly models to meet all of your towing needs. 
Select from the many options and outfit your Tow Dolly to perfectly match your specific towing requirements. Master Tow Tow Dollies come with a long list of quality standard features that set them apart from other tow dollies.
Standard Features
👉We use easy-lube hubs which ease the repacking of wheel bearings by eliminating the need for disassembly and are backed by a 1-year warranty.
👉All of our dollies are equipped with new Radial tires and wheels that are computer balanced to assure a smooth ride at all towing speeds and are backed by a One Year "No Excuses Guarantee" agaisnt manufacturer's defects.
👉Our ramps and carrying pan tilt rearward for loading and feature a raised tread grip pattern that gives extra traction making the Tilt-Bed Loading safer and easier.
👉Our fenders are molded of ¼" thick polyethylene which eliminates metal fatigue problems common with steel fenders, and they will not scratch or rust. They feature oval waterproof LED lights that are mounted with an exclusive light retainer system to insure their secure attachment.
👉The carrying pan steers for your car by swiveling smoothly on polyethylene pads which are maintenance-free.
👉Both safety chains have a unique steel s-hook safety clip added to insure their secure attachment to the tow vehicle at all times.
👉A factory molded plug-together wiring harness is used to eliminate the need for wire splices which often corrode and lead to wiring shorts. It is also poly loomed where exposed and carefully routed outside the fender well to prevent wires from being damaged by debris thrown up from the tire.
👉We use an exclusive painting process that involves chemically cleansing and etching the bare metal before applying a durable powder coat finish. This extra effort keeps our dollies looking better longer.
👉10,000 pound rated ratchets and adjustable straps securely fasten most 13" through 16" tires and wheels.
👉Every Master Tow dolly is backed by a 1-year written warranty to show our commitment to quality.against against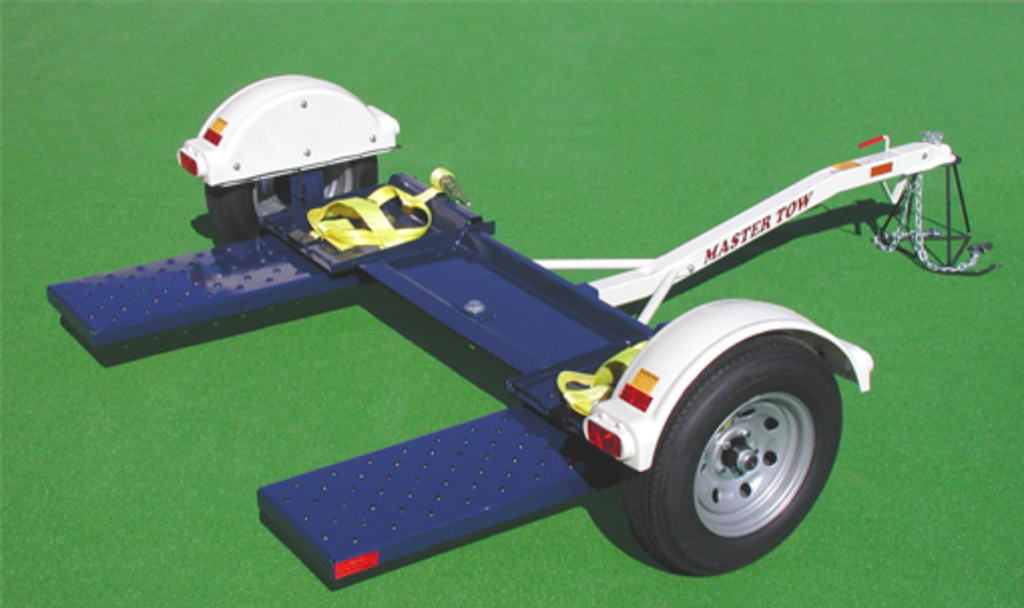 Model 77T
For towing small to mid-size cars. Max towed vehicle gross wt 4.500 lbs. (towed vehicle tread width 40" - 77")

Model 80THD
For towing small to full-size cars, vans & trucks. Max towed vehicle gross wt 4.750 lbs. (towed vehicle tread width 40" - 80")

Electric Brakes Break Away Kit

Electric & Surge Drum Brakes

Towed Vehicle Secure Chains

👉Vehicle Tread Width
👉Max Width at Front Doors
👉Overall Width
👉Overall Length
👉Height at Fender
👉Ground Clearance
Weight
👉Tow Dolly Gross Vehicle
👉Weight Rating
👉Actual Cargo Capacity
👉Maximum Gross Weight of Vehicle to be Towed
👉Tire Size (Trailer Service)
👉Coupler Size
👉Coupler Class

40
75
99
121.5
26
6

450 lbs.
3,000 lbs.

2,550 lbs.
4,250 lbs.


ST 205/75D 14
2
SAE 2 /3,500 lbs.

40
78
102
121.5
26
6

551 lbs.
3,000 lbs.

2,950 lbs.
4,900 lbs.


ST 205/75D 14
2
SAE 3 /5,000 lbs.